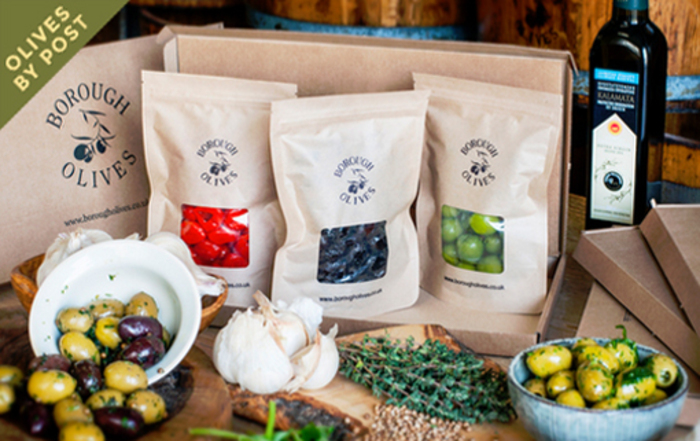 NEW! Olives by Post
New! Get Regular Olive Deliveries from Just £9.50...
Here's something new from Borough Olives…Olives by Post. Having friends over? Hosting a dinner party? Just love olives? Well now you can get olives by post and have regular fresh deliveries of all your favourites thanks to the new Olives by Post service from Borough Olives.
At Borough Olives we offer a huge range of tempting olives, oils, sauces and antipasti all of which can be delivered fresh to your door. Our Olives by Post subscription service allows you to have your favourites delivered regularly and on a day of your choosing. Midweek treat? Sorted...In time for the weekend? Not a problem.
Our most popular Olives by Post package allows you to choose 3 olives or antipasti and have them delivered to your home or work for just £9.50 including postage. Better still, our most popular package can be delivered through your letterbox so there is no risk of missing your olives delivery.
Why not get your Borough Olives delivery sent to your workplace and enjoy a fresh, Mediterranean treat that is perfect for snacking (and for attracting the envy of your colleagues!). Alternatively, get Olives by Post delivered to your home in time for the weekend, perfect for when you are entertaining (…if you can face sharing them!).
We currently offer four package sizes which can be delivered regularly and include olives, antipasti and our fresh sauces and oils. You can change your package, the frequency you receive your deliveries and can cancel your subscription at any time (although, after tasting our delicious olives, we very much doubt you will want to!).
Why not sign up today to our most popular Olives by Post box and, for less than a tenner, you can pick three of our tasty olives or antipasti to be delivered fresh to your door. Remember, you don't even need to be at home to receive your delivery, with Olives by Post from Borough Olives your fresh produce can be posted through your letterbox for you to enjoy when you get home.
Find out more about our range of Olives by Post and Regular Delivery Options now and start enjoying fresh Mediterranean olives, antipasti, oils and sauces from Borough